Plastic blow moulding
Thermoplastic technologies
Manufacture of plastic parts by blow moulding
Rotolia has 10 blow moulding machines to produce parts weighing between 10 grams and 14 kilograms. This technology allows us to mould PET, polypropylene, polycarbonate, polyethylene naphthalate, and other materials.
2 with maximum capacity 0.25 kg.
2 with maximum capacity 0.50 kg.
3 with maximum capacity 2 kg.
2 with maximum capacity 5 kg.
1 with maximum capacity 14 kg.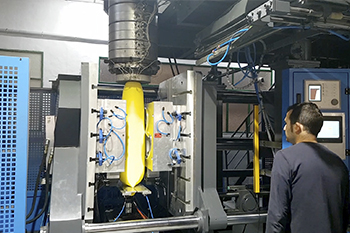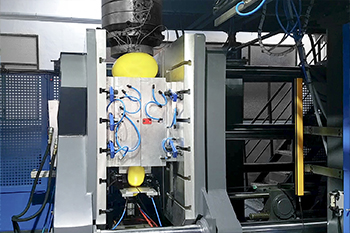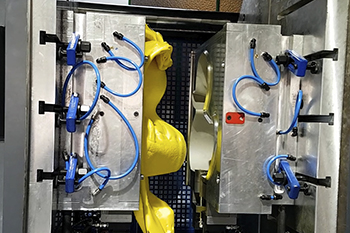 What is the blow moulding process?
Injection blow moulding consists of first obtaining a preform of the polymer to be processed, similar to a test tube, which is then heated and introduced in the mould that houses the required geometry. The injected preform is sometimes stretched, injecting air to expand the material and achieve the part's final shape, finally extracting it.
How does a plastic blow moulding machine work?
The extrusion blow moulding process is intended to manufacture hollow plastic products, such as cosmetics bottles. This blow moulding method involves the following steps: melting the thermoplastic; obtaining the precursor or parison; introducing the hollow precursor in the blow mould; insufflating air in the precursor in the mould; cooling the moulded part; and demoulding.
The weight of extrusion-blown parts can be adjusted within an extremely wide range. Extrusion-blow moulds are generally much less expensive than injection blow moulds, and can be manufactured in a much shorter period of time.
What kind of articles are produced by blow moulding?
Examples of parts made by the extrusion blow moulding process include most hollow polyethylene products, milk bottles, shampoo bottles, automotive tubing, watering cans and hollow industrial parts such as drums.
The benefits of extrusion blow moulding include a high production rate, low tooling cost, and a wide variety of machine manufacturers. It requires relatively small capital investment in equipment, and is suitable for small production batches. Extrusion blow moulding can be used to process many different plastics, including HDPE, PVC, PC, PP, and PETG.
Contact us
Use the form for any questions you may have about manufacturing techniques, quotes or delivery times, and our technical office team will get back to you at the earliest opportunity.
Data controller:ROTOLIA PLASTICA S.L. / Tax number (CIF): B98737026 /Address: P.I. Mediterráneo – C/ Fila 6, 46550 Albuixech (Valencia) / Email to exercise rights: [email protected] / Telephone: 961 204 910
Main purpose: To answer queries and provide the information requested. To manage the potential commercial/professional relationship.
Rights: Access, rectification, erasure and portability of data, limitation and opposition to its processing, and to not be subject to decisions based solely on the automated processing of data, where appropriate.
Additional information:Additional detailed information about our Privacy Policy can be found in this section.
---
Other questions about blow moulding
Find answers to questions about blow moulding and all its characteristics.
Discover all our technologies
A plastic moulding system for all our customers' needs. Technologies to obtain the perfect product.
At Rotolia, we advise you from the very beginning
Tell us about your project or idea, and we will accompany you throughout the process
until you get the product you were looking for.
Contact us now